Over this Christmas break, I was able to visit my sister in New York; we went to hot yoga classes, restaurants, a movie theater (I, Tonya is a great movie, by the way), bookstores, shops, and many many coffee shops. (We are coffee people.) The trip lasted for a little less than a week, and then we flew home on Christmas day. While in New York, we stayed in Brooklyn most of the time, but we also went to Soho, Herald Square, Flatiron, etc. And for any of you 30 Rock fans out there (I know there aren't many): we saw Jenna Maroney (aka Jane Krakowski) hailing a taxi, a mere feet from us! Weirdly enough, I didn't take as many pictures as I thought I would; I got caught up just sightseeing and exploring that I forgot to take more pictures than I knew what to do with. Thankfully, I took enough to make a blog post out of it - I hope you enjoy.
First, let's all marvel at the fact that the Brooklyn Public Library looks like this - my camera didn't alter the swoop of the roof... Heck, let's just marvel at both the BPL and New York Public Library.
With the NYPL in particular, I was amazed at the solid marble floors, the walkway leading up to the inside, the walls, and the intricate ceilings.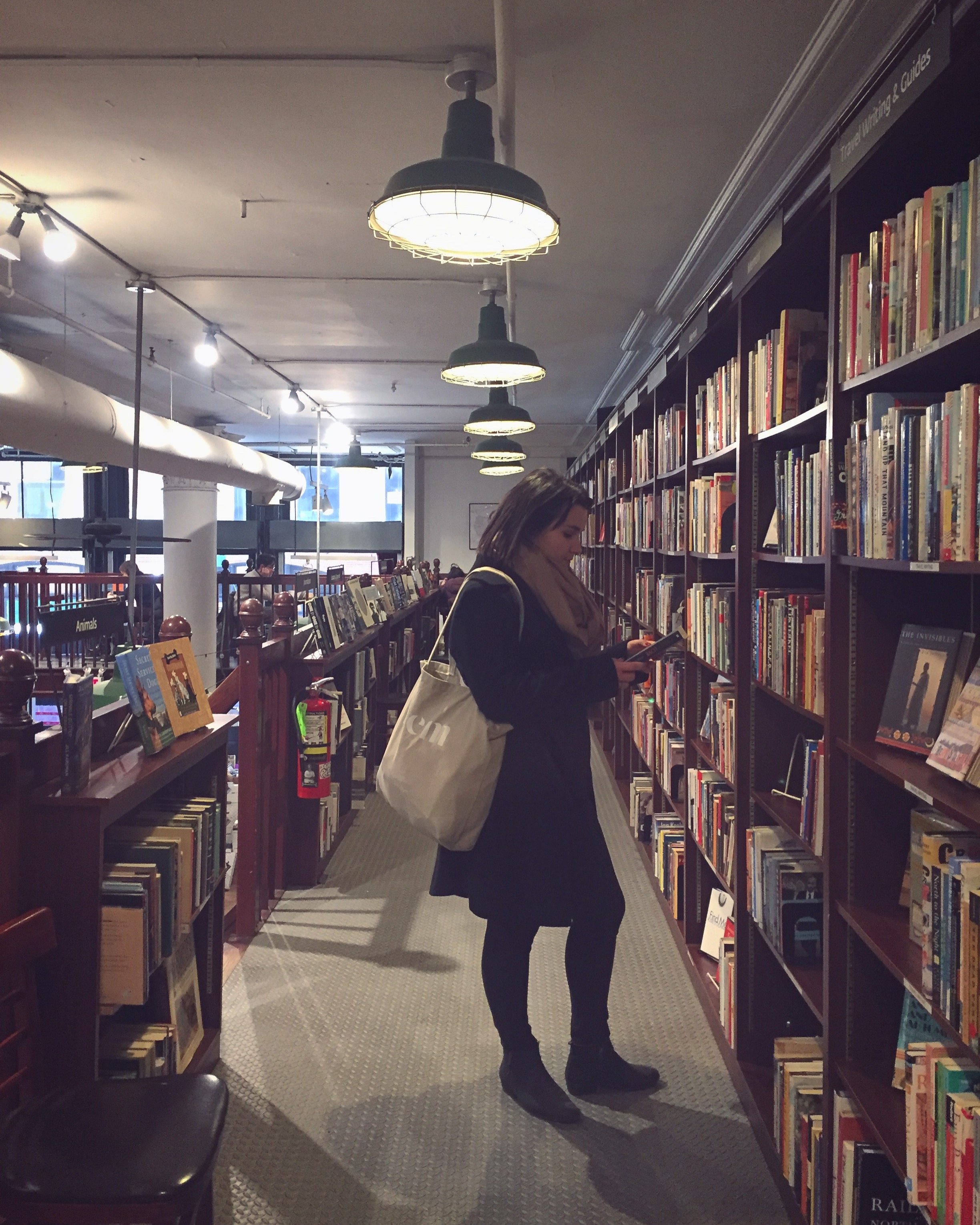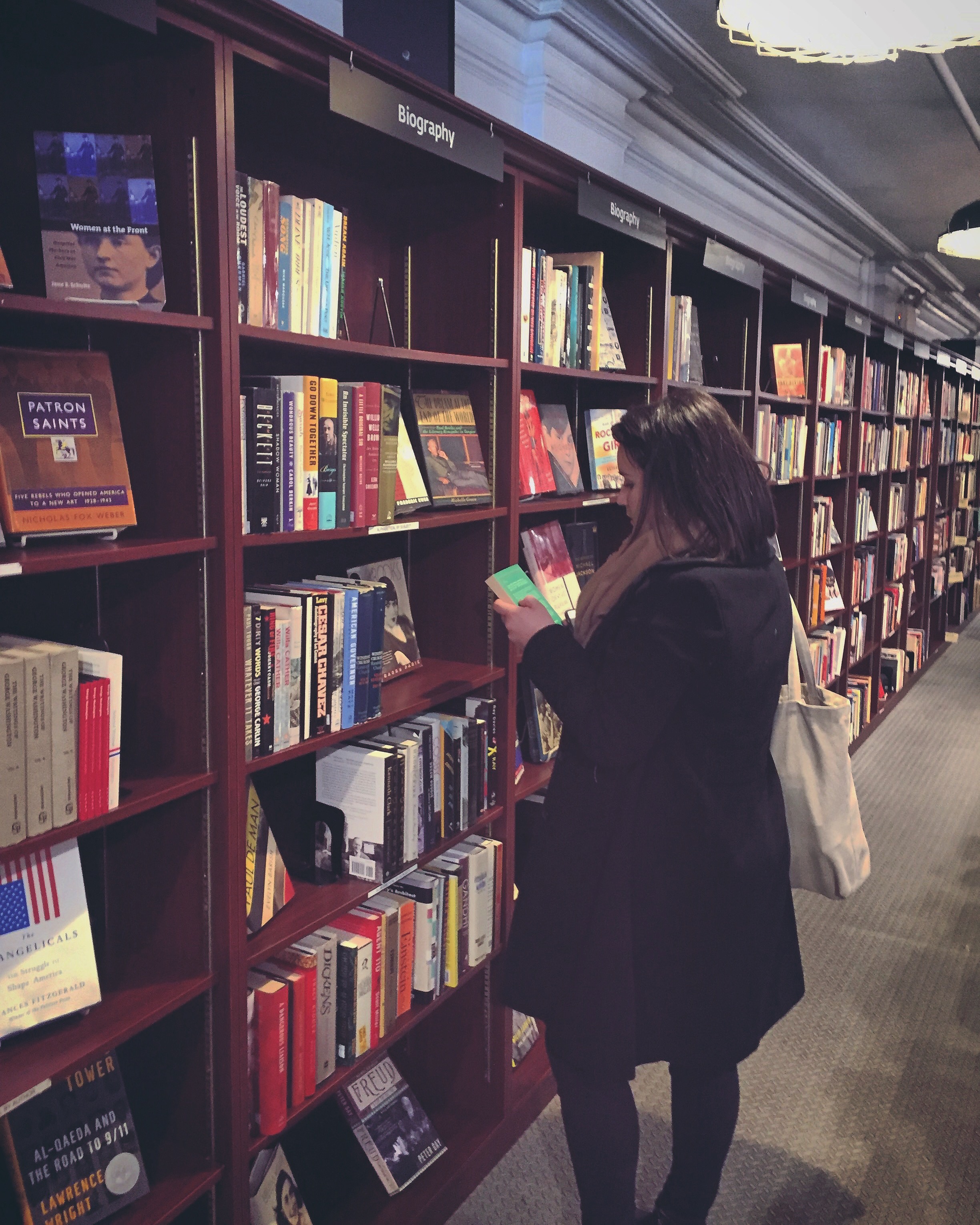 Any bookstore that has a spiral staircase wins me over. (Housing Works Bookstore Café)
One day, we walked across the Brooklyn Bridge. Was there a designated bike path for bikers and another for people walking? Yes. Did the walkers still walk in the bike lane and get yelled at by said bikers? Yes. Other than jumping out of my skin every time a biker whizzed past us, yelling at rule-breaking pedestrians, the walk across the bridge was chilly and beautiful - the sky even looked like velvet.
While Taylor was working one morning, I took to exploring the city by myself. It was raining pretty heavily at the start of my day, so I took a book with me, wore a beanie, grabbed an umbrella, and set off. I found refuge in a little shop called Goods for the Study and browsed. Then, I went to Stumptown Coffee Roasters and got a nice, hot latte while I read my current read at the time, Big Little Lies. We met up a few hours later and shopped, then saw I, Tonya at a dine-in theatre.
(Perfect rainy day activities)
To say we walked a lot is an understatement. We walked miles upon miles, and I was smart and decided to break in my Doc Martens on one of these days (please sense my sarcasm - it was brutal). We took the subway, sure, but my family really loves to walk wherever we go and take the more scenic route when we can. So, at the beginning of one of our mornings to prepare us for a lot of walking, we bought donuts from Dough Donuts and enjoyed them with coffee at Bedford Hill Coffee Bar. Apparently during really busy hours, they prohibit the use of laptops, urging customers to talk to one another - props to you, café. When my mom visited my sister in NY a year or so ago, she tried a latte at this cute café and loved it; she's very picky with her lattes, so I had to try it to see if it lived up to all the hype - it did.
In the picture below, I'm pretty sure I was contemplating how I was going to go about eating the ginormous dulce de leche donut sitting in its box, on my lap.
This spot in DUMBO is supposedly one of the most photographed places for weddings, engagement photos, and just photos in general, so I thought, "What the hey?" Yet, I wish I got the memo to do a fun pose like the girl to the left of the picture. She gets it.
Overall, I really enjoyed the hustle and bustle that is life in New York. I was only there for a short period of time, but immediately after getting off the plane in Queens, I could tell that everything was different in NY. So, thanks, Taylor for the perfect post-fall semester trip.
As Michael Scott once said, "New York, New York. The city so nice, they named it twice. Manhattan is the other name."
Reagan Fleming